We're sorry, but all tickets sales have ended because the event is expired.
CMMC: Prime Contractors' Perspectives


April 13, 2021




11:00 am - 12:00 pm
Even though the US Department of Defense's new Cybersecurity Maturity Model Certification ("CMMC") program is still in its infancy and "only" likely to impact 1,000-2,000 contractors in FY 2021, many smart government contractors are already beginning their CMMC assessment preparation efforts.  Chief among these are the companies with which the US Department of Defense directly contracts, the "prime contractors".  On April 13, 2021 at 11:00 AM US Eastern panelists from three such prime contractors will discuss how their respective organizations are preparing for CMMC.  Our panel includes Nicole Dean, CISO of Accenture Federal Services; David Kessler, Vice President and Associate General Counsel IT & Cybersecurity of BAE Systems; and Michael Connelly, Assistant Compliance and Supply Chain Risk Management Program Manager and Chief Strategist for Classified Policy and Programs for the Johns Hopkins University Applied Physics Laboratory.  We hope you will join us for this insightful session!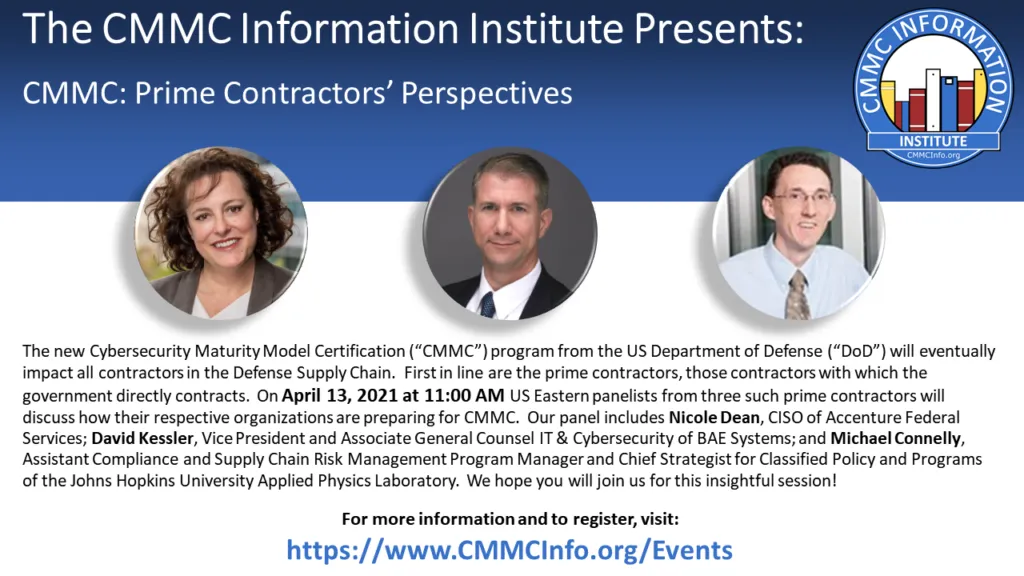 About the Panelists:
Nicole Dean
Chief Information Security Officer
Accenture Federal Services
Over the past 20 years, Ms. Dean has held increasingly responsible positions in cybersecurity and information technology systems management for Federal, Department of Defense, Intelligence Community and commercial cyber and communications systems.  Ms. Dean is currently Chief Information Security Officer for Accenture Federal Services, one of the nation's largest government consulting organizations.  Before entering the civilian workforce, Ms. Dean was Director of the National Cyber Security Division at the Department of Homeland Security.  In that position she She has maintained frequent interaction with senior executives from the White House, the National Security Staff, all Federal Government agencies, including, OMB, DOD and the Intelligence Community to provide robust Information Sharing and Situational Awareness on cyber related events, as well as coordinate with other Federal agencies to provide specific warning information and advice on appropriate protective measures and countermeasures to State, Local and Tribal governments and to the private sector and critical infrastructure owners and operators.  Ms. Dean holds a Bachelor of Science Degree in both Liberal Arts and Information Technology and a Master's degree in Information Systems Security from Colorado Technical University.
David Kessler
Vice President and Associate General Counsel
IT & Cybersecurity
BAE Systems
Mr. Kessler is VP and Associate General Counsel for IT  & Cybersecurity at BAE Systems, where he oversees BAE Systems Inc.'s security and IT teams and provide advice on emerging IT, cybersecurity, data privacy and insider threats..  He is a former public sector counsel at Verizon where he served as the company's lead product counsel for the their public sector arm with oversight on federal, state and local government as well as education and public safety programs.  Mr. Kessler previously spent over six years at McAfee in various leadership roles including Group Counsel and Chief Compliance Officer.  He also held legal positions with Intel, Autodesk, and Symantec.  Before transitioning to in-house roles, Mr. Kessler was a Senior Associate at Greenberg Traurig, one of the nation's largest law firms.  Mr. Kessler holds a Bachelor's degree from the University of Florida and graduated Summa Cum Laude with a Juris Doctorate degree from American University.
Michael R Connelly
JHU/APL Chief Strategist for Classified Policy and Programs
Assistant Compliance and Supply Chain Risk Management Program Manager
Mr. Connelly has been at JHU/APL since 1997 and has served in a variety of roles ranging from systems administration, host based forensics, application development, systems programming, project management, Assistant ISSM for DoD networks, and from 2013 until January 2020 as Chief Information Security Officer (CISO) for Classified Programs.
Mr. Connelly is currently the JHU/APL Chief Strategist for Classified Policy and Programs and the Assistant Compliance and Supply Chain Risk Management (SCRM) Program Manager. As Chief Strategist he provides providing strategic thought and insight into developing broad information systems security solutions to help shape broader government requirements. He provides strategic guidance on information assurance oversight and policy direction for all Classified Information Systems Security programs to support APL's Classified Services Program Manager, CIO, and CSO. The JHU/APL classified information security account consists of over 250 SSPs, dozens of WANs, and roughly 8,000 systems. As the Assistant Compliance and SCRM Program Manager he is responsible for meeting IT mission needs and growing government compliance requirements, while seeking to advance Industry standards.
Mr. Connelly graduated from Towson University in 1999 with a Bachelor of Science in Computer Science. He subsequently completed a Master's of Science in Applied Information Technology and a Post-baccalaureate in Database Management Systems at Towson University in 2002. He is certified by the Defense and Counterintelligence and Security Agency (DCSA) as both a Facility Security Officer (FSO) and Information Systems Security Manager (ISSM), is a Certified Information Security Manager (CISM) and a Certified Data Privacy Solutions Engineer (CDSPE) by ISACA.